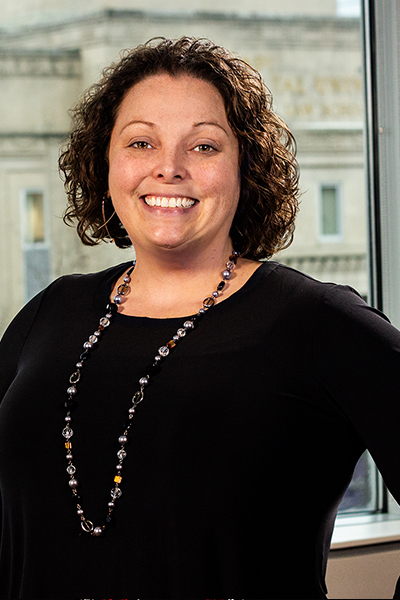 Mindi
Schaefer
614 737 2914
As Administrative & Paralegal Support Director, Mindi Schaefer is responsible for the management of the administrative and paralegal support staff which includes recruiting, training, work-flow coordination, productivity management, and continuing legal education. Additionally, she analyzes public relation and promotional strategies for the firm including sponsorship activities, pro bono opportunities, and speaking engagements. She researches print and electronic media options for the firm to promote and advertise the firm. In addition, Mindi focuses on social media implementation and website content management to maintain fresh and current firm content.

With years of experience, Mindi participates in various types of litigation cases in the areas of medical malpractice, professional liability, general liability, governmental entity liability, business planning, and business disputes. She handles all aspects of the legal process including investigation, discovery, file management, and trial preparation. Through her work at Poling, Mindi works closely with clients, counsel, and the legal community to illustrate the firm's belief in results, service, and relationships.

Mindi actively participates in the Paralegal Association of Central Ohio ("PACO") and has held various leadership positions including President, President-Elect, National Federation of Paralegal Associations ("NFPA") Primary Representative, NFPA Secondary Representative, Public Relations Representative, and Mentoring Program Committee Chair. She is currently an Advisory Committee Member for the PACO Executive Board as the immediate past President for the association as well as the Public Relations Representative and Social Media and Website Coordinator.

Additionally, Mindi has served as the Advertising / Public Relations Coordinator, Leadership Coordinator, Vice President and Director of Profession Development for the NFPA, and NFPA American Bar Association Representative.

She is also an Adjunct Professor in Capital University Law School's Paralegal and Legal Nurse Consultant Programs teaching Introduction to Paralegal Studies and Civil Litigation. Mindi is a continuing legal education presenter with NFPA, myLawCLE, LawPracticeCLE, and Institute for Paralegal Education focusing on the areas of case preparation from start to Trial and document management. She has been a featured author with PACO and National Paralegal Reporter (affiliated with the NFPA) focusing on topics associated to paralegals, PACO, employment, mentoring, and trial preparation. Mindi is also a frequent guest speaker at local area high schools and colleges focusing on interviewing, entering the paralegal profession, and the overall paralegal profession in Central Ohio.
EDUCATION
1999 – A.A.S. (Legal Assisting), Sinclair Community College, Dayton, Ohio
2006 – B.A. Cum Laude (Political Science), Wright State University, Dayton, Ohio
2011 – M.S. (Communications & Marketing), Franklin University, Columbus, Ohio
CERTIFICATION
2010 – Ohio State Bar Association Certified Paralegal
2011 – American Alliance Certified Paralegal
2013 – National Federation of Paralegal Associations PACE Registered Paralegal
AWARDS
Paralegal Association of Central Ohio Outstanding Committee Chair for 2009 to 2010
Paralegal Association of Central Ohio Ten Year Paralegal Service Award in 2009
Paralegal Association of Central Ohio Outstanding Member for 2010 to 2011
Paralegal Association of Central Ohio Paralegal of the Year 2011 to 2012
Paralegal Association of Central Ohio Paralegal of the Year 2012 to 2013
Paralegal Association of Central Ohio Fifteen Year Paralegal Service Award in 2014
Paralegal Association of Central Ohio Leadership Recognition 2017
Paralegal Association of Central Ohio Twenty Year Paralegal Service Award in 2019
PROFESSIONAL ASSOCIATIONS
Ohio State Bar Association
Notary Public for the State of Ohio
National Federation of Paralegal Associations
American Bar Association
American Alliance of Paralegals, Inc.
Columbus Bar Association
Paralegal Association of Central Ohio
Franklin University Alumni Association
Wright State University Alumni Association
Sinclair Community College Alumni Association
American Association for Paralegal Education
Capital University Law School Paralegal Program Advisory Board